Press Release – Day 1
Press Release
The Bengal Classical Music Festival 2016 premiered with sublimity of sights and sounds
The annual Bengal Classical Music Festival organised by the Bengal foundation commenced for 2016 to go on for five nights. The festival began at 7 pm on November 24 at the Army Stadium. This year's festival started off with a dance performance, "Ravi Karojjal Nrityamalika" by Sharmila Banerjee's troupe, Nrityanandan. The second part of the performance consisted of Manipuri dance. Human rights activist Sultana Kamal handed over the crest to Sharmila Banerjee after the performance.
Following their performance, there was Duet by Pravin Godkhindi on the Flute and Ratish Tagde on the violin accompanied by Ramdas Palsule on the tabla. They performed Raga Maru Behag and Raga Hansadhawani. After the performance, crests were handed over to them by Shah Sayed Kamal, Member of the Bengal Foundation Board of Trustees.
After the second performance, the festival paid homage to two renowned artists who passed away recently. Dr Balmurali Krishna, known to be one of the finest exponents of Carnatic vocal music, passed away on November 22. He attended the Bengal Classical Festival last year and gave a memorable performance with Pandit Ronu Majumder. Ustad Ali Ahmed Hussain passed away in March. He was a Shehnai exponent, who played the inaugural number in the first edition of the Bengal Classical Music Festival 2012.
The festival was officially inaugurated by Honourable Finance Minister of the Government of Bangladesh, Abul Maal Abdul Muhith, as the Chief Guest of the event. Other special guests were Honorable Minister of Cultural Affairs, Asaduzzaman Noor, MP; H.E. Harsh Vardhan Shringla, High Commission of India; Managing Director of Square Pharmaceuticals Ltd, Tapan Chowdhury and CEO and Managing Director of BRAC Bank Ltd, Selim R F Hussain. The first speech was given by the Chairman of Bengal Foundation, Abul Khair. He said, "This festival can act as a protest against the recent militant attacks." Through the Finance Minister he pledged to our Prime Minister to provide playgrounds and cultural clubs for every village in our country which will enhance sports as well as the cultural foundation of our people. He implored all the TV channels in our country to dedicate at least one hour to classical music. "The initiative will help create employment opportunities for new artists emerging from Bengal Foundation's various platforms. Anyone who listens to classical music every morning will be imbued with a sense of righteousness which will prevent them from doing anything harmful against our society."
Finance Minister, Abul Maal Abdul Muhith said, "It is a monumental achievement for us that this festival is now the largest classical music event in the world. 87 year old Girija Devi's performance will be the pinnacle of this year's event. This evolution in our people's ethos started with a protest when there was an attack on our cultural integrity. To understand classical music one has to acquire the taste to understand the intricacies of this beautiful form of music. Whoever has acquired this taste will never succumb to any sort of violence." Cultural Minister, Asaduzzaman Noor, MP said, "This is a matter of great joy that the festival is taking place despite all the uncertainties." He remembered those who had given their lives during the Holy Artisan, Sholakia and various other militant attacks. "The torchbearers in our cultural ecosystem must protest against these incidents. Our children must become culturally aware and sensible to these issues." Finally, he recited a poem by Tariq Suja in remembrance of those deceased during the Holy Artisan attack. Indian High Commissioner, H.E. Harsh Vardhan Shringla said, "One of the key features of this event is that it brings emerging and established artists to the same platform and opens doors to a new world for the listeners of classical music. This festival will help strengthen the ties between our two great nations." Special guest, Square Pharmaceuticals Managing Director, Tapan Chowdhury said, "Square is proud to be part of this prestigious event." Salim R F Hossain, CEO and Managing Director of BRAC Bank said, "BRAC Bank believes in the dreams, possibilities and merits of the people of Bangladesh. Art and culture will help propagate further growth in our youth. This is why we consider being a part of this event as another investment."
After the inauguration Abul Khair handed over crests to the chief guest and special guests.
After the inauguration ceremony, Vidushi Girija Devvi performed Kheyal in Raga Jogkauns; Thumri in Raga Mishra Khamaj; Tappa in Raga Kafi and Dadra in raga Mishra Gauri. Sunanda Sharma provided vocal support of her performance. With her, on the tabla was Gopal Mishra; on sarangi Murad Ali Khan and on harmonium Sumit Mishra. Honorable Minister of Finance Abul Mal Abdul Muhit, handed over the crest to the ace artiste. Vidushi Girija Devi gifted her own painting to Abul Khair, Chairman of Bengal Foundation.
The next performance was sarod by Ustad Aashish Khan. He performed Raga Darbari Kanada, Alap-Jor-alap-Jhala. He also performed Rafa Chandranandan and Mishra Bhairavi. Accompanying him were Pandit Bickram Ghosh on the tabla and Siraj Ali Khan on sarod. After his performance, honorable Minister of Cultural Affairs Asaduzzaman Nur, MP, handed over the crest.
The other performances of the night are Jasrangi, Vocal Duet (vocal) featuring Vidushi Ashwini Bhide Deshpande and Pandit Sanjeev Abhyankar. The former performed Raga Lalit (shuddhya dha), while the latter rendered Raga Puriya Dhaneshree. Ashwini performed Raga Durga, while Sanjeev performed Raga Bhupali. During their performances, Ajinkya Joshi and Rohit Majumdar were on the tabla and Milind Kulkarni and Tanmay Deochake were on the harmonium. The performers received mementos from the honorable Minister of Water Resources Anisul Islam Mahmud.
The final performance of the night was by Dr. L Subramaniam. He performed Mohanam Kriti in Adi talam and his creation Chhandapriya Kriti in Adi talam. With his performance, on the tabla was Pandit Tanmoy Bose; on ghatam T.N. Radhakrishnan and on mridangam Lakshminarayanan Raghunathan. Abul Khair, Chairman of Bengal Foundation and Honorable Minister of Cultural Affairs, Asaduzzaman Noor, MP handed over the crests to the artistes.
On the 2nd day of the festival there will be following performances: Odissi (dance) by V. Madhavi Mudgal and troupe; Tabla by students of Bengal Parampara Sangeetalay; Khayal by Priyanka Gope; Santoor by Rahul Sharma; Vocal presentation by Mohammed Shoeb and others; Sitar by Purbayan Chatterjee; Khayal by Pandit Ulhas Kashalkar; duet by Pandit Ronu Majumdar (flute) and U Rajesh (Mandolin).
The audience can enjoy quality food and beverages at the festival from North End Coffee Roasters, Lucknow, Chaap Station, Bistro E, Paturi, etc. Other stalls are offering ICE Media magazines and books published by Bengal Publications, Daily Star Books and Prothom Alo. Aranya, Bengal Creations, Visual Arts Programme, B Craft, Mango Mobile and BRAC Bank ATMs are also present at the festival grounds. Journalists should be pleased to find a WiFi zone just for them.
Square Group is presenting the Bengal Classical Music Festival as the title sponsor. BRAC Bank is supporting the event as the main sponsor. Maasranga TV is the broadcast partner, while ICE Business Times is the media partner. Radisson Hotel Dhaka is the hospitality partner of the event, and Square Hospital is the medical partner. Blues Communications will handle the event management. The festival is being presented in association with Bengal Digital, Mango and Bengal Parampara Sangeetalay. Perfect Harmony of Singapore is the strategic partner.
For the last four years, the Bengal Classical Music Festival has been the largest classical music event in the subcontinent showcasing performances from over two hundred classically trained singers and dancers. With the goal to popularize and perpetuate the practice of classical music, this festival will go on till November 28th. The event this year is dedicated to the memory of versatile author Syed Shamsul Haq (1935-2016).
Abul Khair, Chairman, Bengal Foundation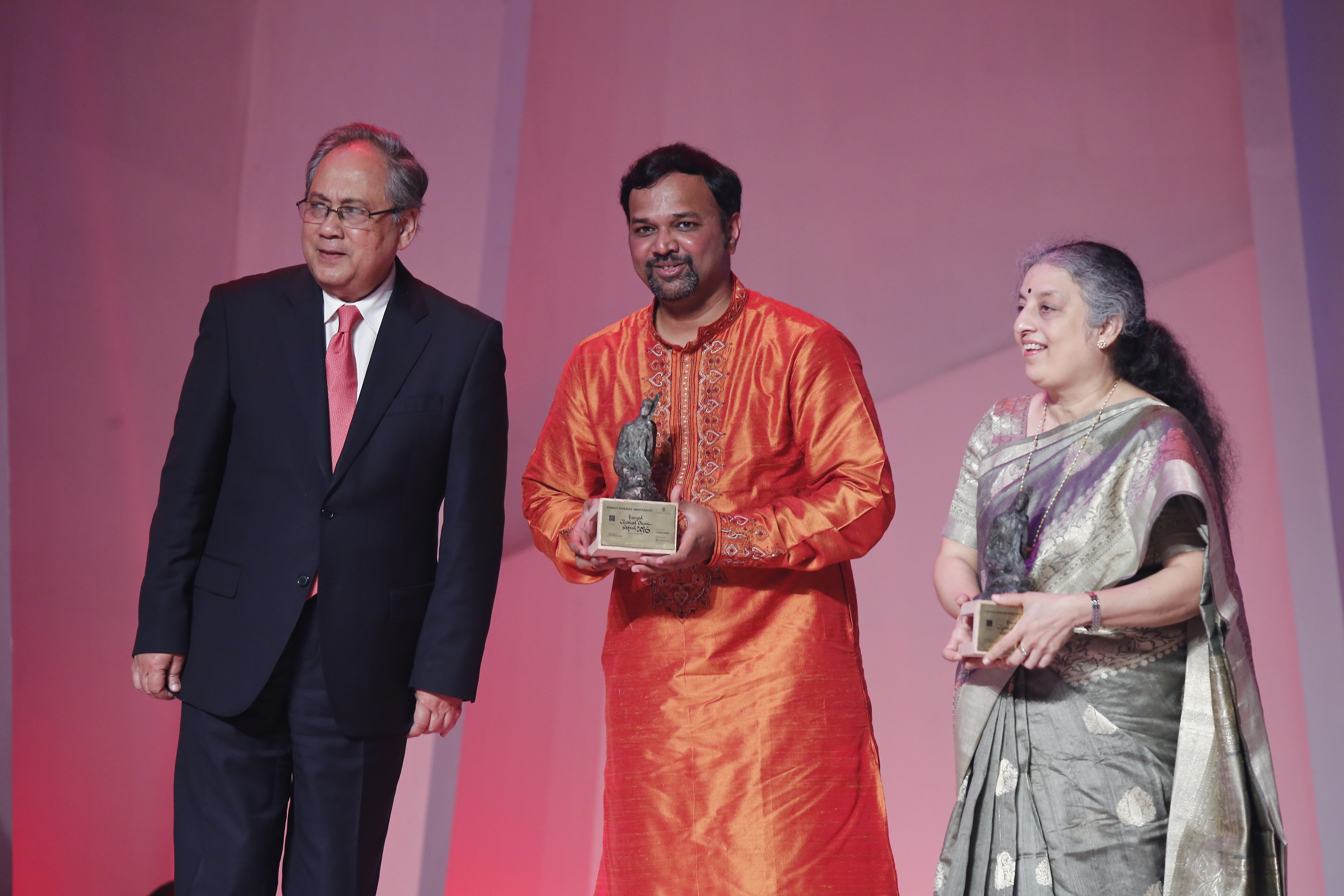 From left to right: Anjan Chowdhury, MD and CEO, Square Toiletries Ltd and Maasranga TV, Sanjeev Abhyankar & Ashwini Bhide Deshpande
Ashwini Bhide Deshpande's Performence
L subramaniam's Performence
Sharmila Banerjee's troupe
Asaduzzaman Noor
Duet by Pravin Godkhindi on the Flute and Ratish Tagde on the Violin
Sharmila Banerjee's troupe